Let's shed some light on Croatian Wedding tradtions: Are you planning a visit to Croatia in the summertime? You may be lucky enough to witness a traditional Croatian wedding party walking or driving through the streets, dressed in their finest attire. These grandiose celebrations are a staple of Croatian culture, often featuring guest lists of up to 300 people and a love of partying. 
If you're invited to a Croatian wedding, you can expect a day full of traditional music, dancing, food, and drink. Here's a closer look at what you can expect at a traditional Croatian wedding:
Arrival at the groom's place
If you're invited by the groom, you'll start the wedding day at his place around 2pm. It's not uncommon for guests to be a bit late to these events, and being half an hour late is actually expected. When you arrive, you'll be greeted by a traditional band called 'tamburaši', who will provide music and entertainment for the festivities.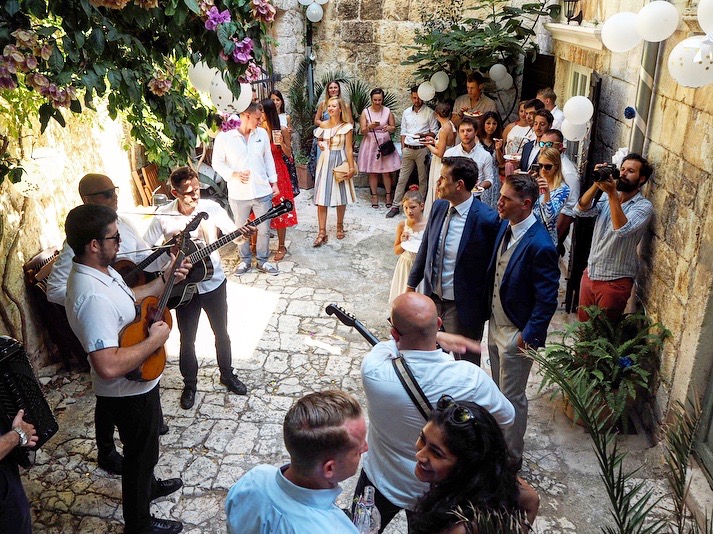 Pre-festivities with food, drink, and traditional music
During the pre-festivities, guests can enjoy traditional songs, local food, and the strong Croatian spirit 'rakija'. Rakija is served in a bottle decorated with the Croatian colours of red, white, and blue, or with the Croatian checkered emblem. Be careful not to overdo it, as it has around 50% alcohol content.
Procession to the bride's place
After the guests have had a few drinks, the wedding party sets off for the bride's place. This may be done on foot in smaller towns, or with a car convoy in larger cities. If you don't have your own car, you can always join someone else's. The 'barjaktar' (flag carrier) leads the procession, with the rest of the wedding party following behind. The barjaktar is a trusted individual chosen by the groom to carry the Croatian flag throughout the wedding day.
Ceremony and reception 
The ceremony is typically held at a church, with the reception taking place at a nearby restaurant. The reception is a grand affair, with a banquet-style meal, more traditional music and dancing, and plenty of rakija.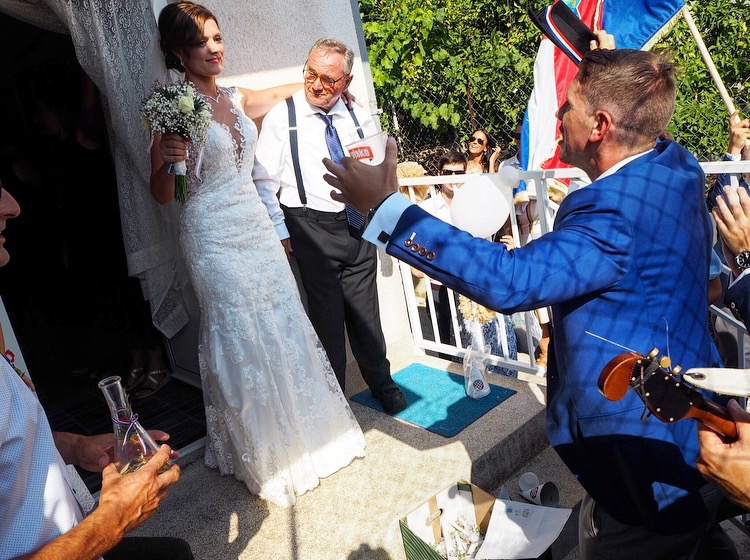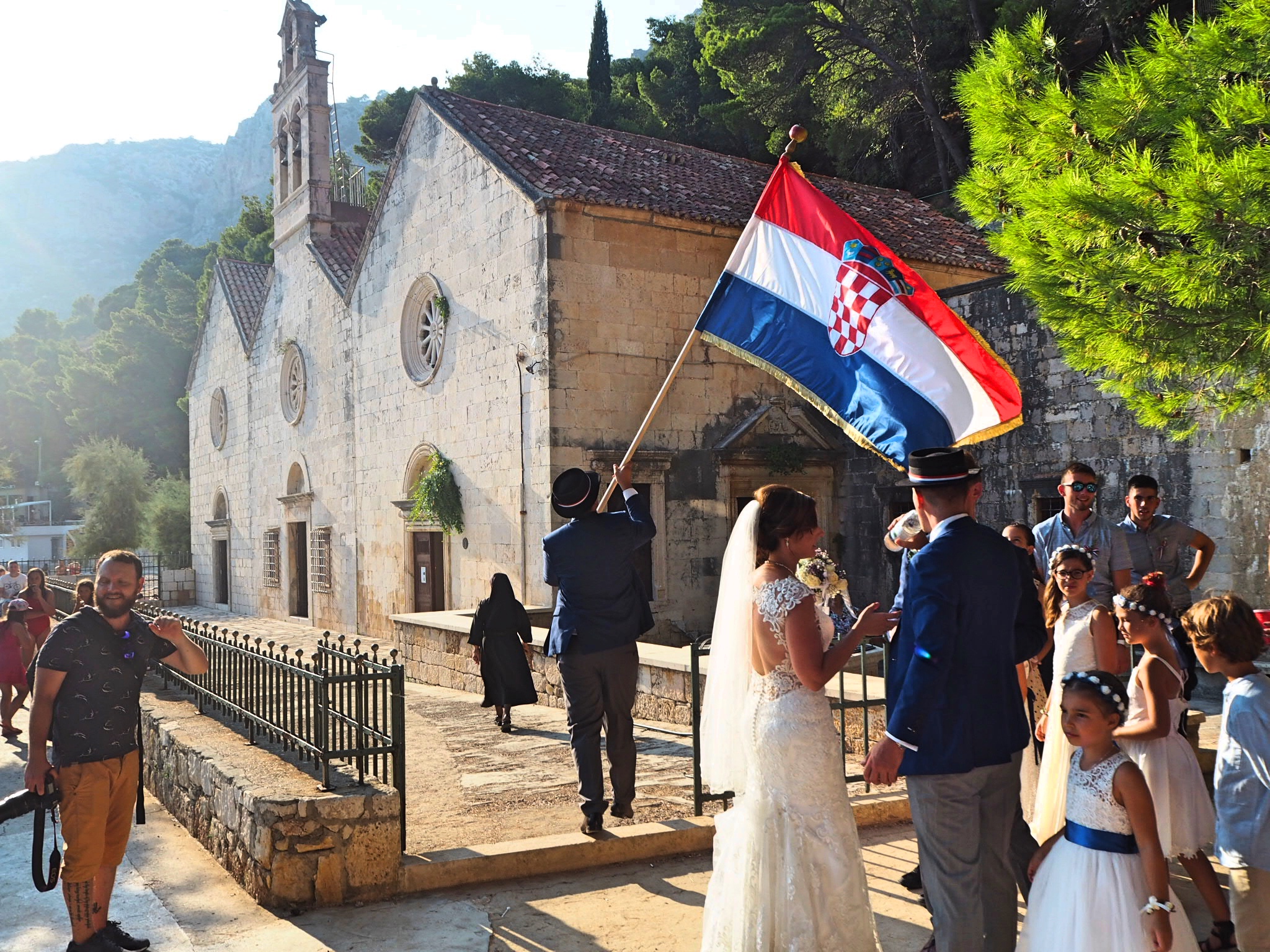 Traditional wedding customs
There are a few traditional customs you may witness at a Croatian wedding. One such custom is the 'riža' (rice) ritual, where the bride and groom throw a handful of sugar over their heads as they leave the church. This is said to bring them sweet fortune and a happy life together. Many couples now opt for flowers or bubbles instead, to avoid having rice in their hair.
In Croatia, it is customary to give money as a wedding gift. Make sure to have an envelope with a nice card and enough money inside to cover the cost of the restaurant for yourself and your companion. If you're unsure of the amount, you can always ask or do a quick search online before attending the wedding. It is important to bring the envelope to the restaurant. There will either be a box in which you can place your envelope, or, at more traditional weddings, there will be a gifting ceremony some time after midnight, announced by the organizers. This is when you hand the envelope to the couple, offering your best wishes. Once you've done this, you can officially say you've survived your first Croatian wedding! In case you are looking for a non-monetary gift, you can check the most popular wedding gifts here.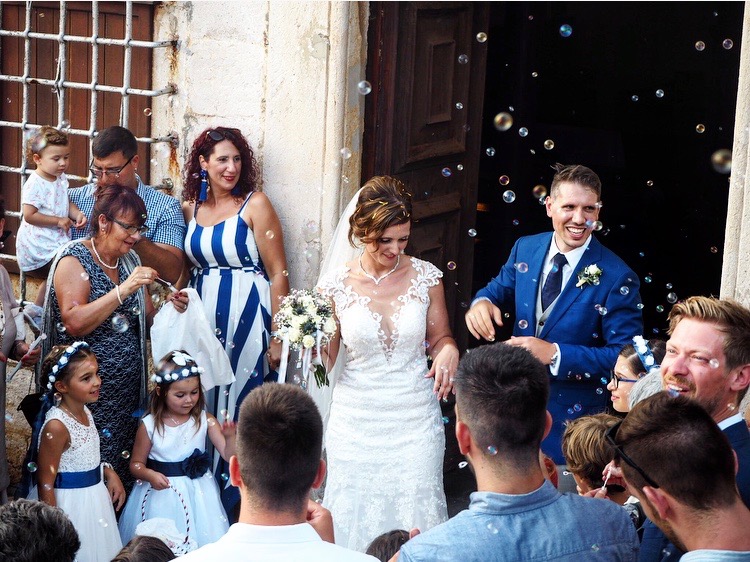 The after-party
The party doesn't stop when the reception ends – it just moves to a different location. The after-party is a more laid-back affair, with dancing, music, and more rakija. It's not uncommon for the after-party to go on well into the morning.
If you're fortunate enough to be invited to a Croatian wedding, you're in for an unforgettable experience full of love, culture, and celebration. Don't miss out on the opportunity to witness these unique and meaningful traditions firsthand. 
Croatian Wedding traditions. Are you in it to pin it?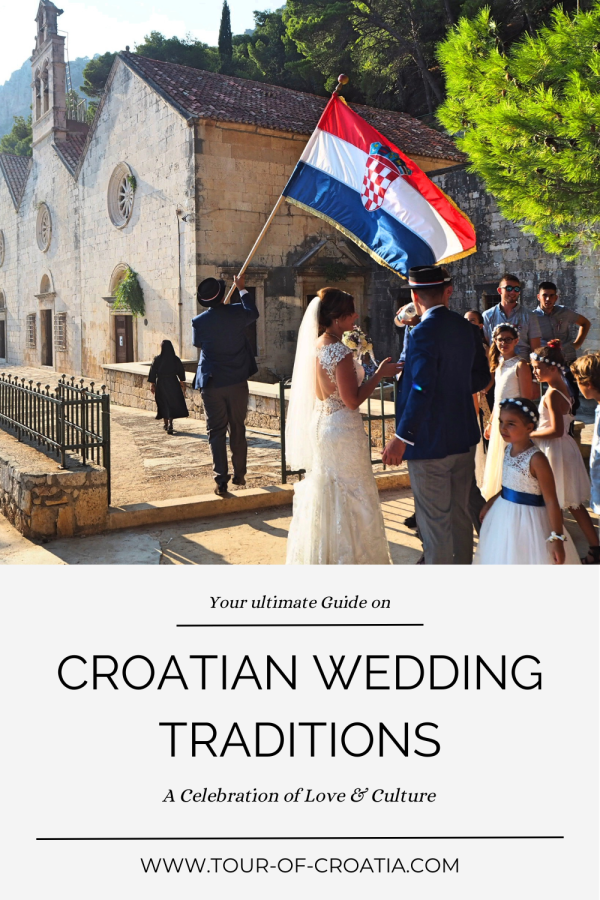 You also might be interested in…
Obala Stjepana Radica 16, Dubrovnik
2023-11-29 22:33:17